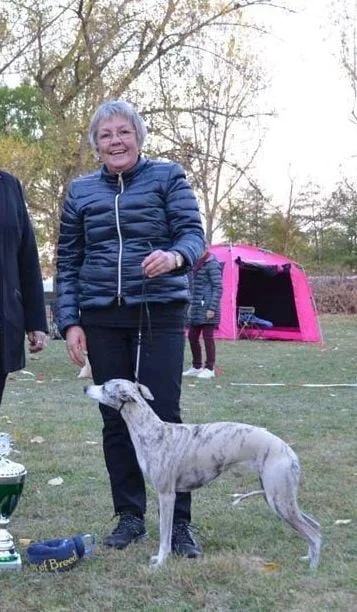 When I was a child I already really wanted a dog, but I was 17 years old until this dream came true. Trixie, a Cairn Terrier bitch, was by my side for many years. Shortly after, in 1978 her big friend the Irish Wolfhound "Ben Bulben of Kinvarra's Home", bred in the Netherlands, joined her.

With him, my "career" as a dog show exhibitor began. Later on we owned two deerhounds and in 1996 Tessa , our first Whippet bitch, joined our family.

Being fascinated by this breed, my husband and I decided to build up a small kennel under the suffix "High on Emotion". In 2000, Tessa became the mother of our first litter.

Since then we had 21 litters that emerged some very successful Whippets on dog shows: we had e.g. Donaueschingen Winners, a WJW and Int. Champions.

In 1980 I became a member of the German Sighthound Club (DWZRV). Since then I followed the development of Sighthounds and Mediterranean breeds with high interest. I was a member of the DWZRV Board in the position of the Leader of the Breeding Committee from 2005 until 2008.and actually i am the chairman of the club.

In 2006 I became a Specialty Judge for the breeds Whippet and Greyhound and later on the breeds Irish Wolfhounds and Deerhounds followed. Since 2012 I am "Group Judge" for the F.C. I. Group 10 and a Specialty Judge for the Mediterranean breeds. It fills me with great pleasure to judge our beautiful dogs either in Germany or in foreign countries. The highlights were judging IW-bitches at the WDS in Leipzig and whippets at the 30th Pearl Anniversary Championship Show in Melbourne.
I'm really looking forward to judge our beautiful.sighthounds in your country.