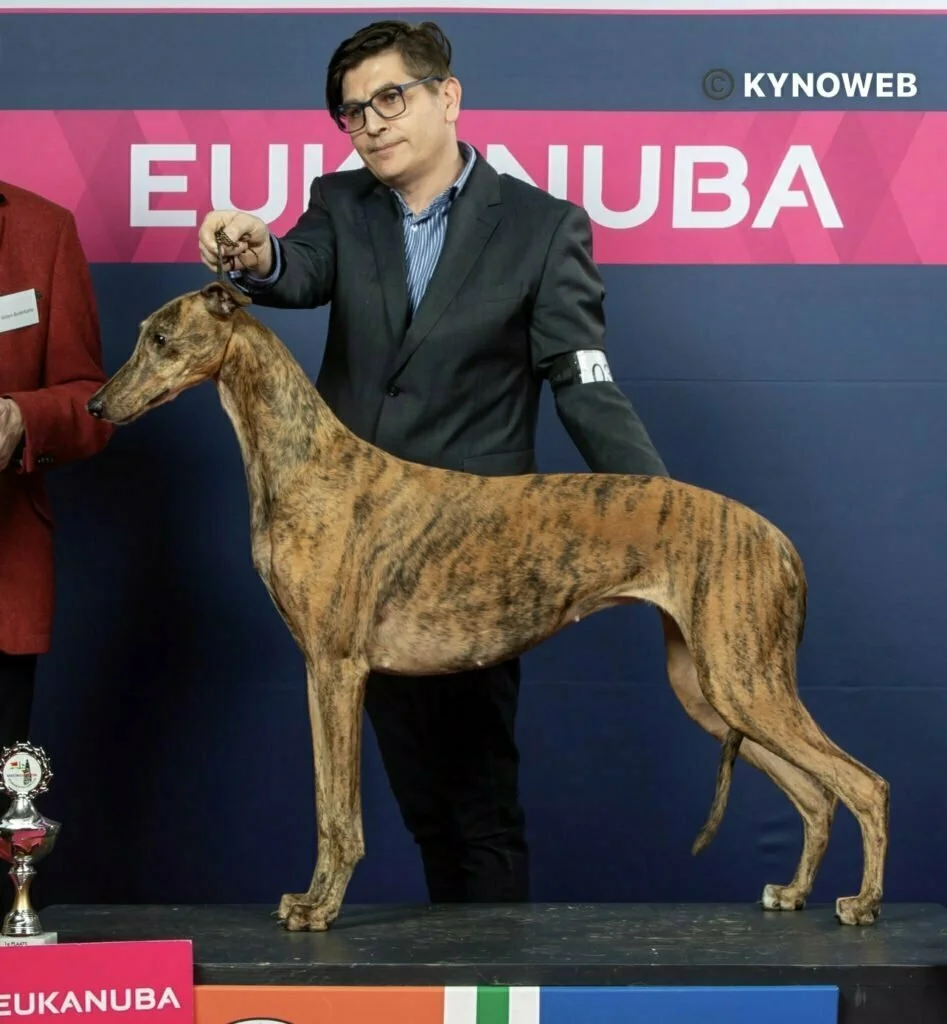 MY SIGHTHOUND BACKGROUND
The acquisition of our family's first Greyhound (a German bred grandson of the American import Hewly Harry Tucker) in the late 1970s marked the beginning of a growing passion for this beautiful breed as well as the entry into the "World of Sighthounds".
My sister and I started showing our Greyhounds afterwards and participated quite successfully at Junior Handling competitions all over Europe. We soon got our first home-bred champions at the small kennel of the Knauber family celebrating it's 40th anniversary already.
Our best-known Greyhound should be Multi-Ch. Happy Hunter's Coco Chanel, who went Best in Show over 223 entries at the world's biggest Greyhound Club Show ever, held in Paris by the French Greyhound Club in the early 1990s. With more than 35 International Champions including Best in Show and SBIS Winners, some top scores at international lure coursing competitions and far more than 170 other Champion titles earned out of only 14 litters born and raised during the last decades, "Happy Hunter's" turned out to be one of the most successful Greyhound kennels in Germany. 
I feel quite lucky to grow up in a family passionate with Sighthounds and being mentored by some great personalities of the scene. I couldn't be more glad to get connected with Dagmar Kenis-Pordham (Solstrand Irish Wolfhounds & Greyhounds) during several stays in England from teenage age on. 
Since the early 1990s my interest and later professional background into marketing and communication brought me to the editorial team of the German Sighthound Magazine printing more than 4.000 copies every month. As the German Sighthound Association is in charge of all sighthound breeds as well as the sighthound related breeds of FCI group V, I've got more focused on the breed's development since then.
FURTHER CLUB ACTIVITIES
In 1997 I began my education as the youngest breed judge for sighthounds in Germany at the time. Since 2001 I have been judging Greyhounds and Whippets nearly all over the continent, including Club Shows in many countries. Later on I extended my license to Afghan Hounds and Saluki before I became a judge for the whole FCI group X as well as the fascinating Pharaoh Hounds and Mediterranean Breeds of FCI group V with judges appointments in more than 20 countries up to now, including the US, Russia and the famous English Hound Show (UK).
On behalf of the German Sighthound Association I have been a show committee member of the Sighthound Festival Donaueschingen until 2018. During the years it developed into one of the major Sighthound events worldwide.
MY PRIVATE SURROUNDING
Since 2014 I live in the North of Germany together with my partner and also greyhound breeder Ina Koulermou from Cyprus (Ina's Fashion Greyhounds). It is said that our common passion for the dog world and breeding is a combination of vision, goal and love.
An impressive breeding program with a worldwide success including Crufts (UK) and Westminster (USA) took this incredible journey being listed by Our Dogs as top Greyhound kennel UK for the third year in a row.
MY JUDGES PHILOSOPHY
From my point of view judging means to emphasize the virtues instead of searching for faults. Therefore, the key to evaluate sighthounds and Mediterranean breeds is going for breed type, the outline and balance – standing and moving – which I believe is one of the most important characteristics a judge should look for, as it can only be achieved by overall soundness.
Only a balanced, sound sighthound with the correct outline can express true breed type. It's the total picture that makes the difference.
I am looking very much forward to be part of the judges team at the double shows for all sighthounds organized by the Irish Wolfhound Club of Norway. No need to mention that I am a big fan of sighthound specialties in Scandinavia! It's a great honor and pleasure at the same time.